Classic Men's Canvas Low Top Shoes (Model E001-4)
Classic low top shoes with your custom design on whole shoes body. Featuring canvas vamp and rubber
sole, this low top shoes is perfect for daily wearing. Add your own design to this shoes through design tool
on Artsadd for a stylish look.

• Designed for fashion people, stylish and personalized.
• Canvas vamp and quarter, incredible flexible and anti-wrinkle.
• Raw rubber sole, BK mesh+breathable foamed insole.
• Durable rubber outsole, tough enough to withstand daily wear and tear.
• Canvas lining for all-day comfort, heat-resistant and flexible.
• Hand wash only. The print on shoes is unable to fade.

Ideal image size in pixels (W * H):
Ontside: 1369 x 589 or Higher / 150 dpi
Inside: 1369 x 589 or Higher / 150 dpi
Vamp: 1090 x 1025 or Higher / 150 dpi

Available Size: US6,US6.5,US7.5,US8,US9,US9.5,US10.5,US11.5,US12,US13
Note: we recommend you choose shoes a size bigger according to the chart below if you have wide or fat feet.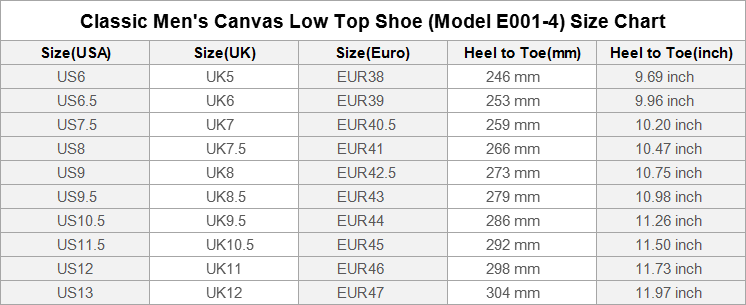 <